POSTCARD FROM THE REBORN HAYMAN ISLAND
Hayman is back. In a BIG way. Reborn after two multi million dollar makeovers, this iconic island is now the epitome of barefoot luxury. With a serene neutral colour palate and coastal hues referencing the island's reef surrounds, guests arrive to a fresh, new-look private island where a palm fringed beach is lapped by cerulean seas. Hayman Island by InterContinental is the closest island in the Whitsundays to the World Heritage listed Great Barrier Reef. Stepping off your luxury catamaran transfer, you'll find rattan sun lounges, shuttered white cabanas and smart blue and white striped sun umbrellas poolside, while chic resort lounges invite guests to relax in lanai spaces surrounded by towering palms and lush tropical foliage. Stay in the Pool, Beach or Lagoon Wing in luxurious accommodation, or in lavish, sprawling Residences overlooking the Coral Sea. The new three-bedroom Hayman Beach House, fronting Hayman Beach and offering 400sqm of luxurious privacy, is particularly special and already attracting A-listers. A certain celebrity (from my hometown Newcastle) was actually babymooning in the Beach House neighbouring my Beach Villa. The one with both a pool AND a palm tree inside the room. Most impressive? Apart from the staff (who frankly blew me away with their care and attention to detail), it has to be Hayman's five new dining options. Tuck into fresh seafood flavours next to Hayman's iconic pool (seven times Olympic size) at Aqua with its Southern California vibe, start your day in Pacific with a freshly squeezed juice and Eggs Benedict and hit pan Asian Bam Bam for a late lunch of duck spring rolls and cool cocktails served in sparkling gold pineapple goblets. You can snorkel Blue Pearl Bay, have a private picnic on Langford Island, or find yourself a cabana and lap up all that this iconic private island has to offer.
Wish you were here? From $750 per night. See hayman.intercontinental.com
POSTCARD FROM BANNISTERS PORT STEPHENS
We were lucky enough to spend a week over the summer holidays at the brand new Bannisters Port Stephens. This retro motel has been reimagined as a barefoot luxury retreat for foodies in a coastal holiday spot loved by generations of Sydneysiders. On the shores of Soldiers Point, this is Bannisters third boutique hotel in NSW. The former Salamander Shores now offers four Hamptons' inspired suites; a penthouse; and fifty rooms with dreamy sea vistas by designer Romy Alwill. Similar in feel to its Mollymook sibling on the NSW South Coast with filtered water views through gum trees, the hotel by celebrity chef Rick Stein and business partner Peter Cosgrove, boasts a lofty lobby, infinity pool, terrace bar, pub style venue and signature restaurant with splashes of Stein's trademark blue. A spa is on the cards.
Last year I attended the opening launch with Stein and wife Sass. Stein worked closely with talented head chef Mitchell Turner on the menu which features his oysters Charentaise, Madras curry of blue eye trevalla, and ever-popular fish pie (it's a must!). Local king prawns, sand whiting and snapper star, while Sydney rock oysters come from growers a mere 600 metres away. Keeping it local, Bannisters collaborated with Brokenwood Wines on a signature blend, while East Coast Gin from Murray's Brewery, and Nelson Bay's Two Bobs sourdough by Rob Daniels (ex Iggy's Bread in Sydney), are also on offer.
I loved the hotel so much, I returned with my 10-year-old daughter and our kelpie Coco last month. Bannisters offers two pet friendly rooms which open out onto a small terrace with lush lawn beyond. Coco was treated like a VIP. Staff carried her bedding and supplies to our room ( next to reception). They delivered lots of loving pats and iced water in the hot weather. Coco was even allowed to venture anywhere bar the pool itself (she was welcome on the surrounding terrace) and Rick Stein restaurant. Would we return again? You bet. Bannisters Port Stephens is a charming, affordable seaside retreat with terrific food and lovely sea views. The fact we can bring our four legged family member makes it an absolute winner in our books.
Wish you were here? Rooms from $249 (all pet rooms cost an additional $60 per stay for an exit clean); see bannisters.com.au
POSTCARD FROM AUSTRALIA'S COOLEST NEW URBAN RESORT
Happy New Year from Australia's coolest urban resort! Hmmmm, before I declare that out loud, the fact is we don't have any other urban resorts. And even if we did none would be anywhere near as hip and Palm Springs-like as The Calile, which has opened in the trendy James St precinct of Fortitude Valley (and right around the corner from The Ovolo The Valley, but that's another story). Brisbane (affectionately known as Brisvegas to those who love Queensland's capital city) has had a raft of new hotel openings. The 'oh so cool' W has opened its doors, the Westin Brisbane opened with the city's first swim up bar, The Emporium moved south of the river (with the swishest rooftop bar), the Ovolo Incholm and Next Hotel opened, while a couple of years back saw The Art Series The Johnson burst onto the scene in Spring Hill. The Calile is like the cherry on top; the urban resort you didn't know you needed until there it was.
We were lucky enough to ring in 2019 at the Calile and I tell you what, it's brilliant! The Calile marks the most recent addition of Richards and Spence designs to the chic James Street precinct where you'll find boutique shops, hip eateries, great cafes (Bellissimo Coffee is just across the road) and homeware stores. The design is Miami meets Palm Springs with the 175-room (including nine suite), seven-storey building surrounding a central pool. The pool is really where it's at with alfresco dining, cabanas and sun lounges. Open air spaces and breezeways link rooms which feature cool marble bathrooms, custom linen robes, Grown Alchemist amenities, a locally sourced mini bar, motorised blackout blinds and UHD TV with Chromecast and sound bar. Beyond is the award winning and flagship Greek restaurant Hellenika by Simon Gloftis (sister restaurant to the eponymous Gold Coast venue of the same name), a smart Lobby Bar, gym, day spa, boutiques and library. At Hellenika be sure and order the saganaki, veal dolmades and the Hellenika g&t with Tanqueray, fever tree tonic and rosemary.
There were only a couple of minor downsides. It was impossible to get a poolside cabana unless you sneakily made like a German tourist and reserved one with your towel in the early hours of the morning, and the breakfast menu in the lobby bar is pretty limited. Other than that, it was faultless. So what are you waiting for? Pack your very best resort chic wear and get yourself there. Make it your New Year's resolution. I promise, before you know it you'll be lolling about in the pool with an Aperol Spritz. Frankly make it two or three. Just think of the fortune you'll have saved on the airfare to California.
Wish you were here? Rooms from $279 per night. thecalilehotel.com

POSTCARD FROM FOUR SEASONS NAM HAI
Palm trees, a sweep of long white sand beach and traditional Vietnamese culture collide at the sublime Four Seasons Nam Hai Hoi An. Situated a short distance from Hoi An's UNESCO World Heritage listed old town (with regular shuttle service), the super luxe resort lies on Vietnam's iconic China Beach and oozes understated style. With 100 villas sprinkled among manicured grounds dotted with 4500 coconut trees, this award winning resort comes complete with the incredible Earth Spa surrounding a serene lotus pond, three extraordinary pools, yoga pavilion (where you can try anti gravity yoga), cooking academy, kid's club, two restaurants and excursions ranging from cycling through rice fields to watching local fisherman at sunset. Take a sun lounger by the infinity pool while attendants deliver cold scented towels, water and a poolside menu, or will happily set up families on the beach with bucket and spade. Come sundown, gather at the resort's ethereal spa, for the 'Good Night Kiss to the Earth' – a special ritual, particularly for families. Staff wearing traditional ao dai guide tiny hands in writing a love letter to the earth, before notes are folded, placed in paper lanterns and floated on the lotus pond. Be mesmerised as powerful tones from crystal bowls ring out in the night air. One word: magic!
Wish you were here? From $460 per night. See www.fourseasons.com/hoian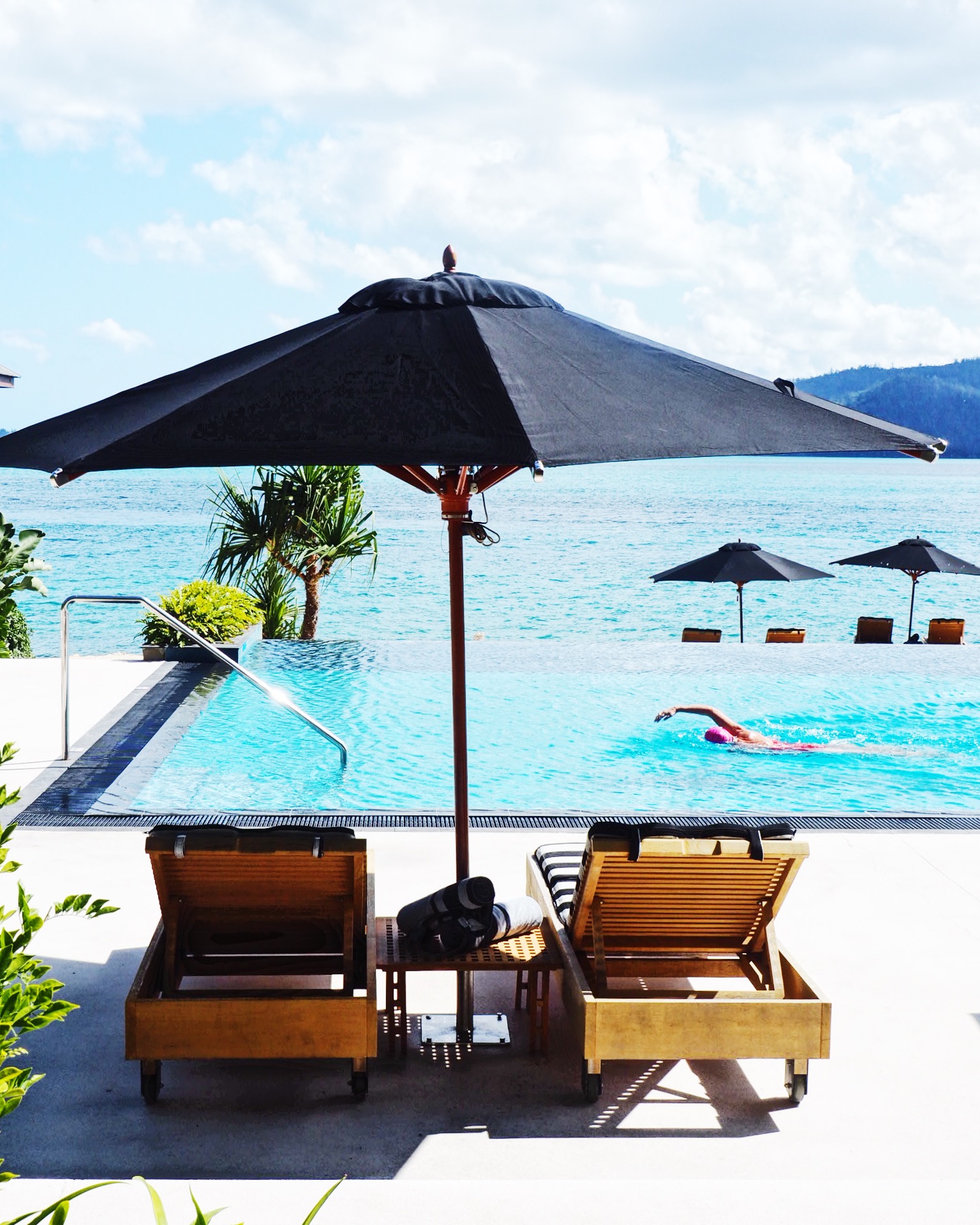 Hamilton Island, QLD, Australia.
Could Qualia be Australia's best resort? It's definitely up there, and for many, a once in a lifetime dream stay. Recently I checked into Qualia for a second time (so lucky right?) during Hamilton Island Race Week. Incredibly, the five star service and professionalism that this world class resort is renowned for was just as evident - even possibly more so - during the island's peak time. Race Week is an incredibly fun time to be on the island - even for landlubbers. There are fabulous long lunches, special events, dinners under the stars and dancing on the sand. At the yacht club, dubbed 'the Opera House of far north Queensland', race week kicks off with great food, fine wines and impressive vistas of the Whitsunday Passage. It's followed by a whirlwind of glamorous and fun events for foodies, fashionistas, social climbers and sailors alike. The buzz that permeates the island is infectious. One of the highlights is the Paspaley White long lunch held at Qualia, overlooking the dreamy Coral Sea. Secretly however, my favourite time was the following morning, long after the glamorous guests had departed. Service at Pebble Beach, Qualia's dreamy waterfront restaurant, infinity pool and private beach is next level – and extends to those taking a dip in the sea. When I arrived in my golf buggy (every villa comes with one), I was offered a bean bag, complimentary reef shoes, fluffy beach towels, sun screen and chilled water - all delivered to my preferred spot on the sand. It raised the experience of a trip to the beach (where turtles are often spotted) from great to exceptional. This is the type of service you can expect at Qualia and makes it, in my books, possibly Australia's best luxury resort stay. Well played Qualia, well played. Check out more images of Qualia below.
Wish you were here? From $1250 per night. See qualia.com.au
Pics: by Sheriden Rhodes.
POSTCARD FROM THE NEW CAPELLA UBUD
Sometimes a place captures the imagination long before you go. That's what it was like when I first saw this mythical image (above) of the new Capella Ubud. Little did I realise a short time later, I'd be staying in one of the incredible Bill Bensley designed tented retreats - the Librarians' retreat - looking out over that lush jungle teeming with life. In fact, we were the resort's third official guests (Ella even got to cut the ribbon). Perched between dense rainforest, verdant rice fields and the sacred Wos River, the lavish and secluded retreat melds Balinese aesthetics with the island's Dutch colonial past. Twenty-three tented retreats boast private saltwater pools, espresso machines, tea stations, vast wooden terraces and a private collection of antiques and artwork. Unwind with soaks in copper baths overlooking the mist shrouded Keliki Valley, or join guided sunset rice field treks, jungle boot camp or bespoke shopping expeditions. Evenings are reserved for camp fire sundowners (including hands down the best pulled hot chocolate I've ever tried), farm to table cuisine and movies under the stars. It's also time for what one staff members described as, "the orchestra of the forest". It's honestly like nothing I've ever heard (don't fear though, ear plugs come in your camp survival kit). Seriously, glamping never looked so good.
Wish you were here? Priced from $US840 plus tax including breakfast, wifi, complimentary smart phone, selected alcoholic and non alcoholic beverages, beers and snacks from the refreshment trunk (mini bar), chic back pack with camp essentials, 24/7 personal assistant, excursions, mountain bikes, evening cocktails and canapes, return airport transfers, laundering and more. See Capella Ubud
POSTCARD FROM SPICERS POTTS POINT✉️
This week's Postcard is from the divine Spicers Potts Point, which opened late last year. Made up of three historic 1870's terrace houses in a plum location on Victoria St, the $20 million conversion has resulted in a stylish boutique stay. There are just 20 rooms and the feel is like staying in a grand home rather than a hotel. I was fortunate enough to stay in the hotel's Victoria Suite, a generous spaced room with its own balcony, where cheeky cockatoos gathered on the rooftop in the fading afternoon light. The perfect spot for a pot of tea, or a glass of wine while you ponder where to go for dinner. Because let's face it, there are incredible restaurants, cafes and bars literally on your doorstep. Every evening the hotel hosts complimentary drinks and canapés for inhouse guests. My friend and I were served up a well crafted G&T, along with spicy nuts, olives and a plate of dumplings. Guests receive a terrific little guide to what's available nearby and we went by Spicer's recommendation and dined at Cho Cho San, which was fabulous. Breakfast meanwhile is served in the light filled conservatory. My stay was super short, but super sweet. I'm already planning to go back.
Wish you were here? From $359 for bed and breakfast, or why not take advantage of Spicer's Winter Getaway from $399 per night including a late checkout, welcome drink, chocolate dipped strawberries, bikes and parking. See spicersretreats.com/our-retreats/spicers-potts-point
POSTCARD FROM THE LITTLE RED BARN ✉️
Last week the winter blues got to us; it was cold, it was wet and we yearned for warmer climes. On impulse - throwing school and deadlines to the wind - we booked the Little Red Barn Doonan. Where's Doonan, I hear you ask? Doonan is a little rural hamlet near Eumundi in the Noosa hinterland. Everything about the Little Red Barn is picture perfect. It's got an alfresco bath on the deck, a wonderful concrete tank pool, it looks over bushland visited by wallabies and the cutest fit out inside. Oh and a roaring wood fire which we used every night. Our days were spent having coffee at Humdrum Espresso in Eumundi (while Ella played in the awesome kid's playground next door), having brekkie and more coffee at Belmondo's Organic Market (bliss), taking a swim at Little Cove and a mosey around the fabulous Eumundi Markets. We had fish and chips along the Noosa River (from Red Emporer at Noosaville), and then went home to see the wallabies, hear the birds call over the valley, and light the fire. Thanks for having us Little Red Barn.
Wish you were here? From $179 per night (sleeps seven) plus cleaning and service fee. See www.airbnb.com.au/rooms/23867595
Images by Sheriden Rhodes and Ella. Interior shot: @LittleRedBarnDoonan
POSTCARD FROM THE ANCHORAGE✉️
Sink into a comfy chair by the fire, order a single malt whisky and pick up that book you've been meaning to get to. This is winter at the newly revamped Anchorage, Port Stephens - a five star Hamptons inspired retreat 2.5 hours from Sydney (and a mere hour from Newcastle; you can even fly into Williamtown Airport). Luxe new spa with Italian linen robes, Jacuzzi and steam room? Tick. Water views from crisp blue and white rooms? Tick? Two heated pools, seasonal produce, and slow walks along deserted beaches spotting whales and dolphins? Tick, tick, tick. Best of all the newly revamped Anchorage has some luxe winter offers (including stay three, pay two Monday-Thursday) to entice travellers to Port Stephens during the cooler months. Or take 20 per cent off any two night stays till the end of August. This boutique, 80-room retreat is getting into the winter spirit with Christmas in July dinners, complimentary mulled wine by the fire, whisky tastings, warming winter spa remedies and more. Who says you can't embrace the winter blues?
Wish you were here? From $226 per night during winter. See anchorageportstephens.com.au
POSTCARD FROM THE NEW COMO UMA CANGGU ✉️
Calling all luxe adventure travellers! The new Como Uma Canggu is calling your name. This hip, new beachside resort ups the luxe factor on the black volcanic sands of Canggu, a cool coastal village offering some of Bali's most coveted surf breaks.
Surrounded by rolling waves on Echo Beach at Canggu, the resort feels a world away from the hustle and bustle of Legian and Seminyak, yet it's only a mere taxi ride from the boutique and hip shopping and dining options. And there's plenty on your doorstep too if you want to venture beyond the resort confines.
Bali's new five-star retreat melds both local and European influences with a fabulous beach club by Italian designer Paola Navone, a languid 115-metre lagoon pool and swish on-site spa. The phenomenal penthouses are but one of the star attractions. Offering 400 square metres of sprawling luxury, they have 10-metre private rooftop pools and Indian Ocean vistas framed by striking arched roof-lines.
All 119 rooms offer king-size beds draped in white Egyptian cotton. Some have courtyards and outdoor showers, others direct access to the lagoon pool. Seven treatment rooms deliver Asian inspired therapies, along with twice-daily yoga and Pilates. I'm still feeling it days after returning home.
Both novice and veteran surfers are also well catered for, thanks to a new luxury surfing concept in partnership with Australian-based wave-riding experts Tropicsurf. Just go see them in the Surf Shack and they'll take care of all your needs.
The resort's Como Beach Club offers swanky poolside reclining and dining beside a 25-metre pool, with playful swings, cabanas and sun lounges to while away the hours. Tuck into tacos, pizza, fabulous nasi goreng, pad thai with a twist and order an Orient Express to wash it down - hands down the best G&T I've ever had. Beyond, head to Old Man's for sundowners with the cool kids.
Wish you were here? From $311 a night including breakfast and Wi-Fi; comohotels.com/umacanggu
POSTCARD FROM GERRINGONG✉️
Recently we travelled to the NSW South Coast and stayed at the luxe, new Soul of Gerringong. Soul offers coastal living at its very best, with plenty of room for all the brood. We travelled with three generations (myself, my nine year old daughter and Ella's grandma Bev), and with seven guest rooms, each with their own bathroom, we all had plenty of room. This is in fact the perfect house for special celebrations, anniversaries and large multi generational get togethers. Curated by owner and interior designer Simone Mathews, the late 1800s original farmhouse offers three separate buildings – the Soul Farmhouse, Barn and Cabana. Soul comes with all the mod cons (Netflix, airconditioning, kitchen, luxe bathrooms) plus heated outdoor swimming pool, concierge on arrival and extensive outdoor entertaining spaces. Perfect for big gatherings of friends and family. Take a look at the gallery below.
Wish you were here? From $1500 a night (exclusive use) for up to 16 people. See soulofgerringong.com.au
Image credit: Citizens of Style copyright.