All at Sea
*Rhodes Well Travelled is shocked to hear the news today of a woman accidentally falling overboard from Pacific Dawn. Condolences to her family and loved ones at this tragic time.
OK, I admit I'm not a cruise person. Fighting for a sun lounge by a miniscule pool, and lining up for buffet spreads with a cast of thousands is not my idea of a good time. Truth is, I'm not a fan of gaudy Las Vegas interiors, and cabins that looks like a bad motel room fit out from the seventies. Oh, and I've never been able to find a decent coffee on a ship.
So, I guess you'd have to say I'm a rather surprising convert to cruising and it has a lot to do with the way the industry is reinventing itself and its ships. P&O's refurbished Brisbane super liner Pacific Dawn, fresh from dry dock in Singapore last year, is the ship that finally makes me a fan of cruising, particularly as it offers incredible value. And now I can't stop telling everyone about it; like one of those annoying people who finally give up smoking, become a vegan, or buy a Thermomix (you get my drift). Here's what happened when we set sail into the sunset on the Pacific Dawn.
We're on a cruise to nowhere...
As we line up to board, the 2000-passenger ship gleams proudly in port – displaying the cruise line's striking new livery featuring the Southern Cross – ship shape and ready to welcome guests on board.
I'd been thinking before we embark whether it's the ship that's the destination or the means to get to the destination. This becomes particularly relevant for us, given that hours before leaving port we're told we're on a "cruise to nowhere". This is thanks to Cyclone Debbie, which at the time was about to cause havoc on the far north Queensland coast. Our scheduled port stop at Airlie Beach (which ended up bearing much of the cyclone's wrath), is cancelled. Pacific Dawn's Captain Alan Dockeray says several options have been investigated, including sailing to Lord Howe Island. However, this is ruled out "given the rough ride passengers would face on the return leg". The ship instead does a loop before returning to Brisbane on Saturday morning, giving passengers four days at sea.
For most of the 1956 passengers on board this is welcome news. I mean, seriously, who would want to sail towards a category-four cyclone, or arrive to the aftermath? It also means we have more time to explore the many new features of this incredibly popular ship. The sister ship to Pacific Eden and Aria, Pacific Dawn turned 25 last year. She has carried the most passengers in P&O's current fleet (joining in 2007) and began home-porting in Brisbane in December 2009.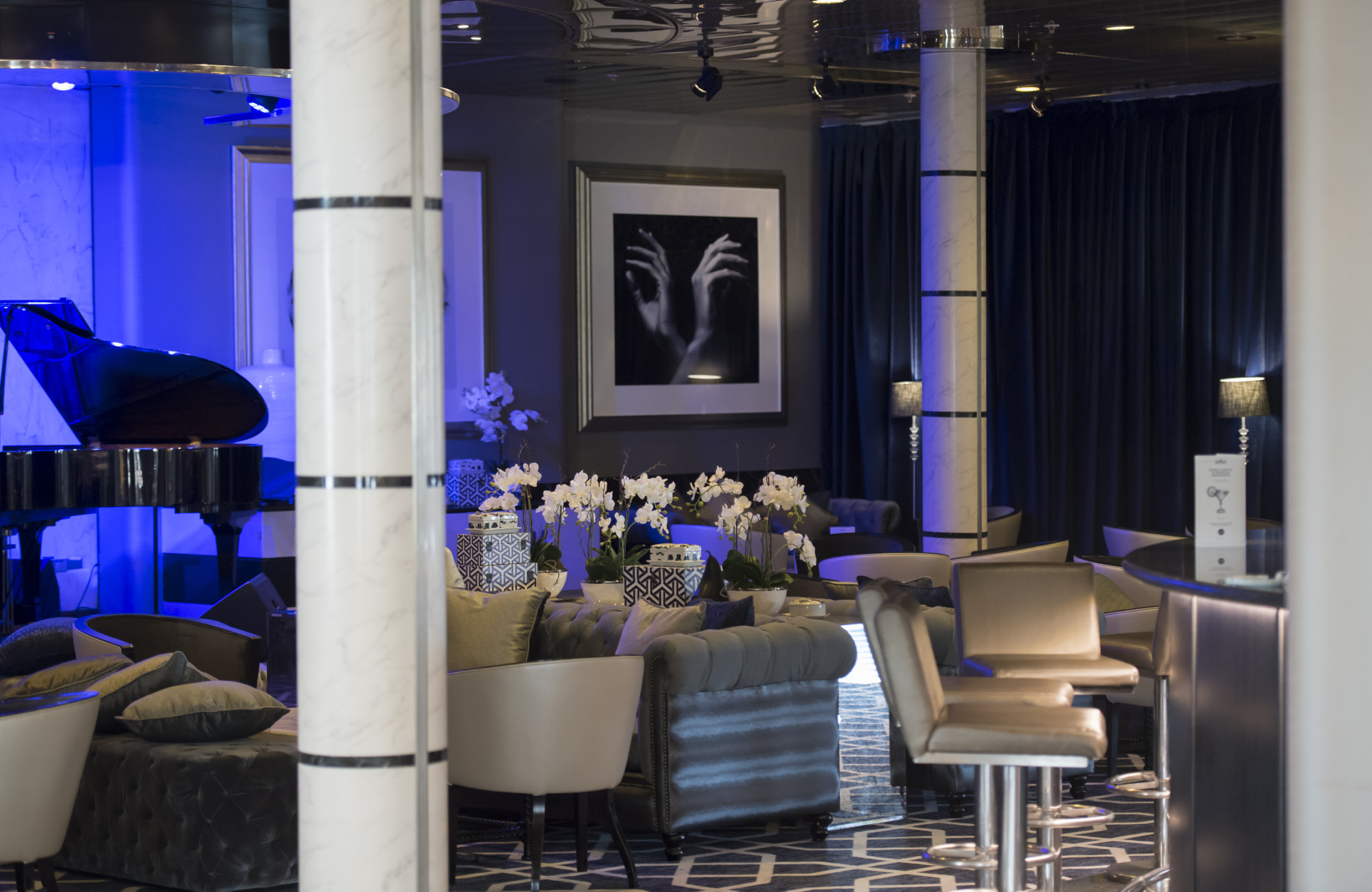 Our first impression, after settling into our cabin on deck 10, is what an incredible makeover she's had. Boasting a multimillion-dollar refit it puts Pacific Dawn in the same league as her comelier and more sharply dressed sisters.
One of the stars of the new look are two new 80-metre water slides – one transparent and the other multicoloured with pumping music – which snake their way from the funnel to the top deck.
Also new is a fun kids' water park, 3000 pieces of new and reupholstered furniture, more than 15,000 pieces of art and accessories, and more than 500 new pieces of signage. A team of 700 contractors spent more than 100,000 hours transforming the ship during its time in dry dock, including the installation of more than 18,000 square metres of carpet. To put that into perspective, that's almost enough to carpet all four exhibition halls at the Brisbane Convention and Exhibition Centre. Gone are the tacky interiors; this ship looks seriously stylish.
Goodbye ship's buffet, hello new food outlets
And gone is the traditional ship buffet! What, I hear you cry? Yep, gone. Replacing the buffet is The Pantry, an international marketplace of nine fresh food outlets. Already introduced on P&O's other ships, The Panty has proved extremely popular with guests, although P&O admits it has ruffled a few feathers with ardent cruise-goers. The biggest benefits are: a dramatic reduction in food waste, as well as a vastly improved food and beverage experience. With its fresh, contemporary look, including palm wallpaper, granite-topped dining counters with café-style stools and Alice in Wonderland-type chairs, The Pantry is also where you find the Mediterranean-inspired Nic and Toni's, and P&O's first seafood restaurant, Shell and Bones. The space morphs from a casual dining spot for breakfast and lunch to a hip, relaxed seafood eatery at night. It's fabulous, and ends up being one of my favourite spots to dine (the Singapore-style crab is messy but delicious, as are the crab cakes).
Other areas to sport a striking redesign – now a trademark of the P&O fleet - include some of the ship's key public spaces, including the Atrium, Charlie's Café, The Orient and the Promenade Bar. These are now chic and stylish spaces to sit and have a coffee (yes you can get a decent coffee), enjoy a cocktail, listen to live music and escape the crowds on the upper decks. The new look is also a precursor to P&O's next ship, Pacific Explorer, which debuted in Sydney in June.
Fun for kids (and big kids)
While I'm not particularly a big cruise ship devotee (I'm talking about big ships as opposed to small), Pacific Dawn impresses both myself and my daughter, Ella, so much we hardly notice the fact we don't go ashore. Ella enjoys the kids' club, Shark Shack, and scares the pants off me by doing the "walk the plank" (twice) with P&O's The Edge adventure park. She scales the indoor rock-climbing wall, joins a scavenger hunt and tears down the new slides. The ship's teenage clubs, HQ and HQ+, have also taken the entertainment up another level with the cruise line's new virtual reality experience, featuring a range of popular Sony PS4 titles.
Other entertainment onboard
The crew up the ante entertaining passengers from dawn to dusk to make up for the fact that we don't go ashore. Laser tag, dance classes, lectures on the "Titanic Story and the Role of Halifax Nova Scotia", animal towel parades, high tea in Luke Mangan's Salt Grill, origami workshops, napkin-folding demonstrations, cocktail and whisky classes, lawn bowls, movies on the big screen, live music plus the highly popular "White Party" are but a few of the activities on offer. We also take in the new show Seven, do a Gatsby dance class, and hang out in the wonderful Thermal Suites with their heated, mosaic-tiled lounges hidden in the ship's bowels on deck two. Even then I feel like we've hardly scratched the surface in terms of what's on offer.
The verdict
Amazingly, while Cyclone Debbie was wreaking havoc on far north Queensland, we were in a parallel universe of smooth seas, and clear, warm weather. We may have been on a "cruise to nowhere", but aboard the Pacific Dawn, we discover it doesn't really matter where you sail to after all.
Trip Notes
Cruise
P&O Cruises Pacific Dawn operates out of Brisbane to destinations including the Whitsundays, the Great Barrier Reef (including Port Douglas), the Pacific Islands and Vanuatu. It also offers special three-night Food and Wine cruises. Fares are dependent on route, stateroom and length of cruise but start from $512 per person quad share. For more information and bookings, contact a licensed travel agent or P&O Cruises on 13 24 94. See pocruises.com.au.
Sheriden Rhodes was a guest of P&O Cruises, but all her opinions are her own.